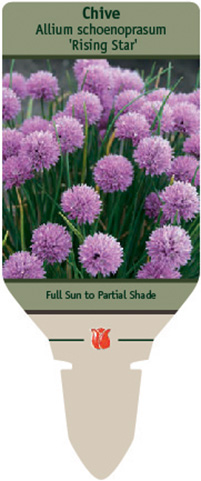 Photo © Netherland Bulb Company, Images may not be copied,
altered or reproduced without express written consent.
Chive
Allium schoenoprasum 'Rising Star'
Grass-like foliage supports round pink flower puffs.
Characteristics:
Bloom Time:
Blooms late spring to early summer
Exposure:
Full Sun,Partial Shade
Features and Usage:






Greenhouse Growing Instructions:
Grow on at 65-72° F with high light keeping evenly moist. Allium have low fertility needs and require no pinching, but can be sheared to 3" and allowed to re-flush. Plants generally finish in 6-8 weeks based on growing conditions. Protect from late season frost.

Plants Per Gallon: 1
Transplanting Instructions:
Plant in well draining potting soil keeping crown of plant at same level it was in the plug. Water immediately and apply a broad spectrum fungicide according to directions to avoid crown and root rot.

Homeowner Planting and Maintenance Tips:
Easy to grow in well-drained soil in full sun to partial shade. Be sure to water well after planting. Commonly used as an herb to impart mild onion flavor to salads, soups, vegetables, and sauces.

Printed at www.netherlandbulb.com
© Copyright 2022 Netherland Bulb Company. All Rights Reserved.
13 McFadden Rd · Easton, PA 18045 · Tel.: 1.800.78TULIP