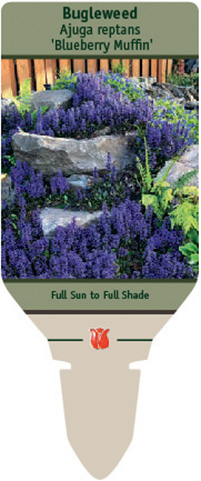 Photo © Netherland Bulb Company, Images may not be copied,
altered or reproduced without express written consent.
Bugleweed
Ajuga reptans 'Blueberry Muffin'
PP022092
An extremely vigorous small-leaved groundcover with dark new leaves and blueberry-blue flowers on eight inch spikes.
Characteristics:
Bloom Time:
Blooms late spring to early summer
Features and Usage:





Greenhouse Growing Instructions:
Grow on at 55-75° F to promote root growth. Keep evenly moist and never let plant to completely dry out. Once actively growing feed at 50-75 ppm N with each watering. Plants will generally finish in 8-10 weeks based on growing conditions.

Plants Per Gallon: 1
Transplanting Instructions:
Plant in professional potting soil keeping crown of plant at same level it was in the plug. Water immediately and apply a broad spectrum fungicide according to directions to avoid crown and root rot.

Homeowner Planting and Maintenance Tips:
Easy to grow in moist soil in partial shade.

Printed at www.netherlandbulb.com
© Copyright 2021 Netherland Bulb Company. All Rights Reserved.
13 McFadden Rd · Easton, PA 18045 · Tel.: 1.800.78TULIP