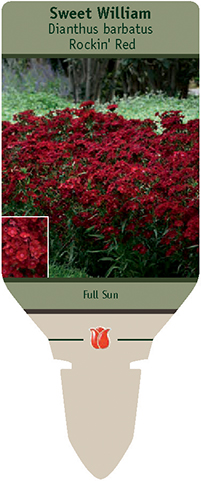 Dianthus barbatus Rockin' Series 'Rockin' Red' - Sweet William from Netherland Bulb
Photo © Netherland Bulb Company, Images may not be copied,
altered or reproduced without express written consent.
Sweet William
Dianthus barbatus 'Rockin' Red'
Upright stems of lightly fragrant, lacy, vivid red single flowers.
A hybrid strain of dianthus which is a true multi-use plant, excellent for massed bedding, growing in the perennial border or in mixed containers and tubs. This selection is mid-sized, with upright stems of lightly fragrant, lacy, vivid red single flowers. Blooms in spring, again in summer and once again in the fall. Remove fading flowers to encourage more buds to form. Although hardy into Zone 5, plants may also be treated as bedding annuals since they flower well during the first year.
Characteristics:
Bloom Time:
Blooms early spring to fall
Exposure:
Full Sun,Partial Shade
Features and Usage:







Greenhouse Growing Instructions:
Grow on at 62-65° F under long days with high lights levels. Keep soil evenly moist avoiding extremes. Provide good air circulation and keep foliage dry, especially at night. Once plants are actively growing, apply a slow release fertilizer. Plants generally finish in 6-8 weeks based on growing conditions.

Plants Per Gallon: 1
Transplanting Instructions:
Plant in well draining potting soil keeping crown of plant at same level it was in the plug. Do not plant crown below soil. Once potted, water immediately and apply a broad spectrum fungicide according to directions to avoid crown and root rot.

Homeowner Planting and Maintenance Tips:
Plant in any soil that drains well. Full sun is preferred but will tolerate partial shade although the blooms might not be as prolific.

Printed at www.netherlandbulb.com
© Copyright 2022 Netherland Bulb Company. All Rights Reserved.
13 McFadden Rd · Easton, PA 18045 · Tel.: 1.800.78TULIP