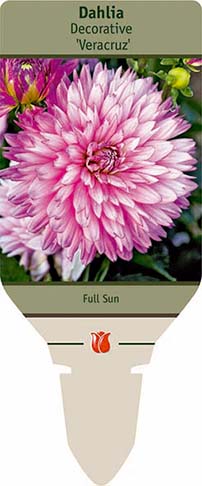 Photo © Netherland Bulb Company, Images may not be copied,
altered or reproduced without express written consent.
Dahlia Decorative 'Veracruz®'
Upright stems support a Dutch summer favorite that blooms all summer long.
Characteristics:
Bloom Time:
Blooms summer to fall
Mature Height:
18-22 Inches
Features and Usage:




Greenhouse Growing Instructions:
For best results, dahlia XXL should be grown at 70° F day and 65° F night. As for light, grow under long days with a minimum day length of 14 hours. Low light will slow flowering and can cause stretch.
Plants Per Gallon: 1
Storage Temperature Prior to Planting: 38
Cooler Humidity Prior to Planting: Low
Transplanting Instructions:
Use sterile and well-drained root medium with EC of 1.5. Root medium pH should be between 5.7 and 6.3. Water the liners in with a fertilizer solution. Pinch the plants, leaving two nodes, 10 to 14 days after potting the liners. Liners can be pinched leaving two nodes at potting only if liners have not been hardened or stressed after rooting. Earlier pinching will reduce crop time.

Homeowner Planting and Maintenance Tips:
Easy to grow in moist, fertile soil in full sun.

Printed at www.netherlandbulb.com
© Copyright 2020 Netherland Bulb Company. All Rights Reserved.
13 McFadden Rd · Easton, PA 18045 · Tel.: 1.800.78TULIP