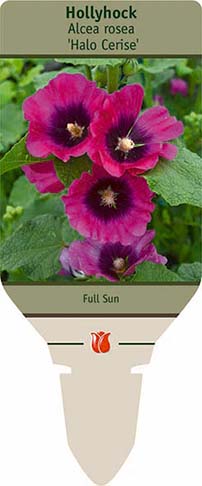 Photo © Netherland Bulb Company, Images may not be copied,
altered or reproduced without express written consent.
Hollyhock
Alcea rosea 'Halo Cerise'
Beautiful bright pink petals with purple centers on tall, imposing foliage.
Characteristics:
Bloom Time:
Blooms summer
Mature Height:
60-72 Inches
Features and Usage:





Greenhouse Growing Instructions:
Grow on at 65-70° F in long days with high light, will not flower when grown under short days. Water moderately then allow plants to dry a little in between. Once actively growing feed at 75-100 ppm N with each watering. Plants generally finish in 6-8 weeks based on growing conditions.
Plants Per Gallon: 1
Storage Temperature Prior to Planting: 38
Cooler Humidity Prior to Planting: Low
Transplanting Instructions:
Plant in professional potting soil keeping crown of plant at the same level it was in the plug. Water immediately and apply a broad spectrum fungicide according to directions to avoid crown and root rot.
Homeowner Planting and Maintenance Tips:
Hollyhocks prefer rich, moist but well-drained soil in full sun.

Printed at www.netherlandbulb.com
© Copyright 2021 Netherland Bulb Company. All Rights Reserved.
13 McFadden Rd · Easton, PA 18045 · Tel.: 1.800.78TULIP