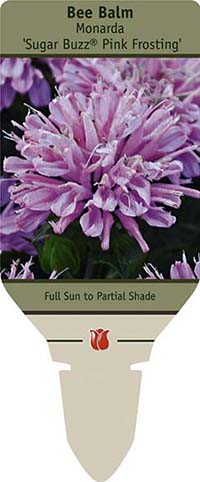 Photo © Netherland Bulb Company, Images may not be copied,
altered or reproduced without express written consent.
Bee Balm
Monarda 'Pink Frosting'
PP29,548
A compact perennial with pastel pink flowers and foliage that smells like mint when crushed.
Beebalm is a traditional favourite for the perennial border, with a striking display of richly coloured flowers through the summer months. This midsized selection from the SUGAR BUZZ™ Series has shaggy, pastel pink flowers. The foliage smells like mint when crushed. Displays above average resistance to powdery mildew. The more compact stature makes this useful in containers or tubs. A favourite of both butterflies and hummingbirds. Beebalm spreads quickly: reduce clump size in early spring. Garden selections all have been bred from native North American wildflower species. Flowers are edible. The SUGAR BUZZ® Series trademark is owned by Walters Gardens, Inc. USPP#29,548: unlicensed propagation prohibited.
Characteristics:
Bloom Time:
Blooms mid to late summer
Mature Height:
14-16 Inches
Exposure:
Full Sun,Partial Shade
Features and Usage:







Greenhouse Growing Instructions:
Grow on at 65-72° F under high light levels. Keep soil moist but not overly wet or dry. Once actively growing, feed at 75-100 ppm N with each watering. Provide good air circulation and keep leaves dry to prevent disease. Pinch to increase branching habit. Finishes in 8-10 weeks based on growing conditions.
Plants Per Gallon: 1
Transplanting Instructions:
Plant in well draining professional potting soil keeping crown of plant at same level it was in the plug. Once potted, water immediately and apply a broad spectrum fungicide according to directions to avoid crown and root rot.

Homeowner Planting and Maintenance Tips:
Plant in well-drained soil in full sun to partial shade.

Printed at www.netherlandbulb.com
© Copyright 2020 Netherland Bulb Company. All Rights Reserved.
13 McFadden Rd · Easton, PA 18045 · Tel.: 1.800.78TULIP