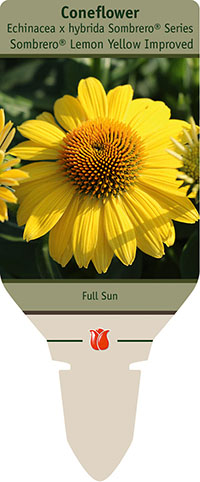 Photo © Netherland Bulb Company, Images may not be copied,
altered or reproduced without express written consent.
Coneflower
Echinacea x hybrida 'Sombrero® Lemon Yellow Improved'
PP030116; US7,982,110
A great traditional looking coneflower with nontraditional lemon yellow petals.
A new series of Coneflower bred to produce well-branched, sturdy and compact plants featuring a high bud count. This selection produces very large, single flowers with overlapping orange petals surrounding a large, rust-brown cone. Ideal for sunny borders and growing in mixed containers. Attractive to butterflies. Excellent for cutting. Coneflowers begin blooming midsummer and continue for months if faded flowers are regularly removed. However keeping some dried flower heads on the plants in fall will provide food for wintering song birds. Dried seed heads also add interest to the winter garden. USPPP: Unlicensed propagation prohibited.
Characteristics:
Bloom Time:
Blooms summer
Features and Usage:






Greenhouse Growing Instructions:
Grow on at 68-70° F in 12-16 hour days to promote flowering. Remove initial buds to bulk up plants. Water moderately and allow plants to dry a little. Once actively growing, fertilize lightly. Echinacea do not like to be overly wet or over-fertilized. Plants generally finish in 8-10 weeks based on growing conditions.
Plants Per Gallon: 1
Transplanting Instructions:
Plant in well draining professional potting soil keeping crown of plant at same level it was in the plug. Once potted, water immediately and apply a broad spectrum fungicide according to directions to avoid crown and root rot.
Homeowner Planting and Maintenance Tips:
Plant in moist to dry well-drained soil in full sun. Drought tolerant once established.

Printed at www.netherlandbulb.com
© Copyright 2022 Netherland Bulb Company. All Rights Reserved.
13 McFadden Rd · Easton, PA 18045 · Tel.: 1.800.78TULIP