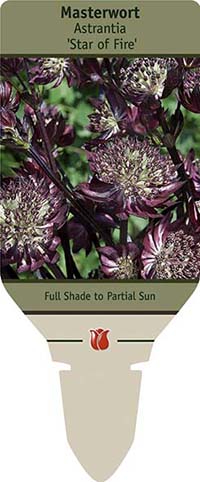 Photo © Netherland Bulb Company, Images may not be copied,
altered or reproduced without express written consent.
Masterwort
Astrantia major 'Star of Fire'
PP020284
Clumps of attractive and unique foliage with dark stems support clusters of gorgeous burgundy-red flowers with white centers.
Characteristics:
Bloom Time:
Blooms summer
Exposure:
Partial Sun,Full Shade
Features and Usage:




Greenhouse Growing Instructions:
Grow at 55-65° F to promote root growth. Once actively growing fertilizer can be applied sparingly. Provide 35% shade, keep evenly moist, and never allow to dry out. Plants generally finish in 8-10 weeks based on growing conditions.
Plants Per Gallon: 1
Transplanting Instructions:
Plant in professional potting soil so crown is at or just above the soil surface. Once potted, water immediately and apply a broad spectrum fungicide according to directions to avoid crown and root rot.
Homeowner Planting and Maintenance Tips:
Plant in moist soil in partial sun to full shade.

Printed at www.netherlandbulb.com
© Copyright 2021 Netherland Bulb Company. All Rights Reserved.
13 McFadden Rd · Easton, PA 18045 · Tel.: 1.800.78TULIP