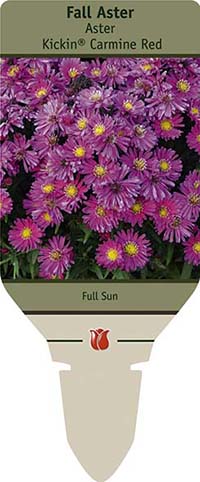 Photo © Netherland Bulb Company, Images may not be copied,
altered or reproduced without express written consent.
Fall Aster
Aster - Symphyotrichum 'Kickin® Carmine Red'
PPAF
Plant bears loads of small, charming, carmine-red daisy flowers for months.
Also known as Fall Asters, these are terrific favorites for autumn color in the perennial border. Plants form bushy mounds, bearing loads of small daisy flowers. This is a compact selection with single, vibrant, carmine-red blossoms, each with a tiny bright-yellow button eye. Pinch plants before July to keep especially low in habit. Excellent in containers. Most Asters will be troubled much less with powdery mildew when grown in a moist, rich soil. Bred by Kientzler of the Netherlands. USPPP: unlicensed propagation prohibited.

Characteristics:
Bloom Time:
Blooms late summer to fall
Features and Usage:




Greenhouse Growing Instructions:
Grow at 48-55° F while keeping evenly moist, but allow soil to dry slightly between watering. Once plants are actively growing Asters benefit from a regular fertilizer program and a soft pinch 8-10 days after potting. Plants generally finish in 6-10 weeks based on growing conditions.
Plants Per Gallon: 1
Transplanting Instructions:
Plant in professional potting soil keeping crown of plant at same level it was in the plug. Water well and apply a broad spectrum fungicide according to directions to avoid crown and root rot.
Homeowner Planting and Maintenance Tips:
Plant in well-drained soil in full sun. A great alternative to the standard fall mum.

Printed at www.netherlandbulb.com
© Copyright 2021 Netherland Bulb Company. All Rights Reserved.
13 McFadden Rd · Easton, PA 18045 · Tel.: 1.800.78TULIP