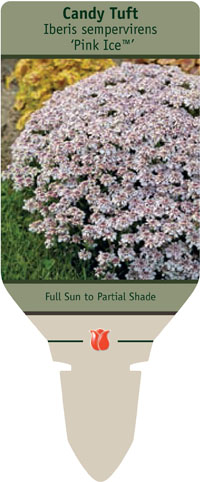 Photo © Netherland Bulb Company, Images may not be copied,
altered or reproduced without express written consent.
Candy Tuft
Iberis sempervirens 'Pink Ice TM'
PP23,854
Glossy evergreen foliage forms a perfect mound to showcase masses of pink flowers.
Candytuft is a spring-blooming favourite, often seen cascading over rocks and walls, or used as a groundcover. The glossy, evergreen foliage forms a perfect mound. This improved selection produces narrow, green leaves and masses of flat clusters of large, pink flowers with small dark-pink centres, spring through fall. Thrives in poor soil, is drought tolerant once established and attracts butterflies. Excellent for the border and in containers. Prefers a well-drained site, so avoid heavy clay soils.
Characteristics:
Bloom Time:
Blooms mid spring, Blooms late spring to fall
Features and Usage:




Greenhouse Growing Instructions:
Grow at 55-65°F in medium-high light. Water management is key, keep evenly moist. Provide good air circulation and keep leaves dry to avoid disease. Once actively growing drop to day temp to 55° F. Advise 50% shade in late spring through summer.

Plants Per Gallon: 1
Transplanting Instructions:
Plant in well draining professional potting soil keeping crown of plant at same level it was in the plug. Once potted, water immediately and apply a broad spectrum fungicide according to directions to avoid crown and root rot.

Homeowner Planting and Maintenance Tips:
Easy to grow when planted in well-drained soil in full sun.

Printed at www.netherlandbulb.com
© Copyright 2020 Netherland Bulb Company. All Rights Reserved.
13 McFadden Rd · Easton, PA 18045 · Tel.: 1.800.78TULIP