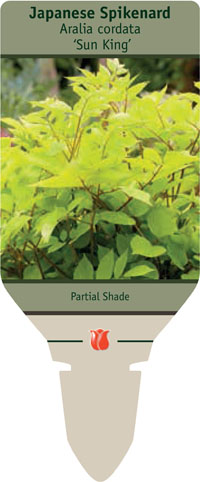 Photo © Netherland Bulb Company, Images may not be copied,
altered or reproduced without express written consent.
Japanese Spikenard
Aralia cordata 'Sun King'
Large, bright gold leaves emerge in spring, then tiny white flowers appear in summer followed by inedible purple berries in late summer.
Perennial of the Year 2020
This gold form of Japanese spikenard makes a bold statement. It emerges in spring with large, bright gold leaves and providing it gets a few hours of sun daily, the foliage will remain bright gold throughout the summer. In full shade, foliage will be chartreuse to lime green in color. Tall 60cm (2') spikes of tiny white flowers appear in summer followed by inedible, purple berries. Fast growing and deciduous. Shelter from strong winds. Barry Yinger found this beauty in a Japanese department store nursery and brought it to the US. It is said to be one of the most amazing new perennial introductions in the last decade.
Characteristics:
Bloom Time:
Blooms late summer
Features and Usage:




Greenhouse Growing Instructions:
Grow on at 55-65° F to promote new root growth in partial shade. Consistent moisture is important for Aralia, never let plants completely dry. Once actively growing feed at 75-125 ppm N with each watering. Plants generally finish in 6-8 weeks based on growing conditions.
Plants Per Gallon: 1
Transplanting Instructions:
Plant in well draining professional potting soil keeping crown of plant at or slightly above the ground. Once potted, water immediately and apply a broad spectrum fungicide according to directions to avoid crown and root rot.
Homeowner Planting and Maintenance Tips:
Easy to grow in partial sun in moist, well-drained soil. Exposure to a few hours of sun brings about the bold color foliage.

Printed at www.netherlandbulb.com
© Copyright 2021 Netherland Bulb Company. All Rights Reserved.
13 McFadden Rd · Easton, PA 18045 · Tel.: 1.800.78TULIP