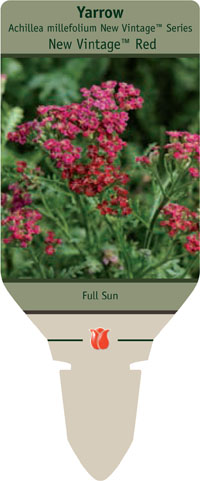 Photo © Netherland Bulb Company, Images may not be copied,
altered or reproduced without express written consent.
Yarrow
Achillea millefolium 'New Vintage TM Red'
PP025618
Bright red colored blooms with upright foliage that is ideal for containers.
Yarrows are among the best perennials for planting in hot, dry and sunny locations, providing good color throughout the summer months. This selection from the New Vintage series features showy, antique red, flat-top flower clusters with creamy white eyes over compact, ferny, green foliage. Excellent for cutting, fresh or dried. Remove faded flowers regularly to promote continued blooming. Inclined to spread, so site this carefully or plan to reduce the clumps each spring. Easily divided in fall or early spring. Trim back hard after the first flush of bloom, to maintain a compact habit. Heat tolerant. USPP#25618: unlicensed propagation prohibited.
Characteristics:
Bloom Time:
Blooms summer to fall
Mature Height:
12-14 Inches
Features and Usage:






Greenhouse Growing Instructions:
Start plants cool at 48-55°F to promote root growth. Grow in high light and allow plants to dry a little between watering. Once actively growing move to 60°F fertilizer can now be applied. Generally finish in 6-10 weeks based on growing conditions.
Plants Per Gallon: 1
Transplanting Instructions:
Plant in well draining professional potting soil keeping crown of plant at same level it was in the plug. Once potted water immediately and apply a broad spectrum fungicide according to directions to avoid crown and root rot.
Homeowner Planting and Maintenance Tips:
Achillea are easy to grow in well-drained soil and full sun as they are drought tolerant. They naturalize well and withstand poor to average soil conditions. Remove faded blooms to provide more flower buds.

Printed at www.netherlandbulb.com
© Copyright 2022 Netherland Bulb Company. All Rights Reserved.
13 McFadden Rd · Easton, PA 18045 · Tel.: 1.800.78TULIP