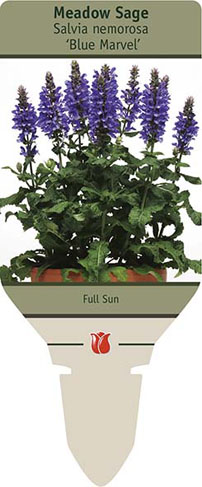 Photo © Netherland Bulb Company, Images may not be copied,
altered or reproduced without express written consent.
Meadow Sage
Salvia nemorosa 'Blue Marvel'
PP27,018
Masses of long blooming flower spikes in the prettiest shade of light deep blue.
The Perennial Sages are invaluable perennials for their rich display in the border. Plants form a bushy clump of grey-green leaves, with upright bright blue flower spikes appearing in late spring through fall. Attractive to both butterflies and hummingbirds. This selection produces the largest flowers of all S. nemorosa. Remove faded flowers to encourage repeat blooming, or simply cut back hard after flowering is finished. Plants are reasonably drought tolerant, once established. Excellent for cutting. Clumps may be easily divided in early spring, every 3 to 4 years. USPPP: unlicensed propagation prohibited.
Characteristics:
Bloom Time:
Blooms late spring to fall
Mature Height:
10-12 Inches
Features and Usage:





Greenhouse Growing Instructions:
Grow on at 55-65° F under long days for optimal flowering. Water thoroughly, allowing to dry in between. Once actively growing, fertilize sparingly at 50 ppm N with each watering. Pinch to increase lateral branching, and deadhead to re-bloom. Generally finish in 6-8 weeks based on growing conditions.
Plants Per Gallon: 1
Storage Temperature Prior to Planting: 38
Cooler Humidity Prior to Planting: Low
Transplanting Instructions:
Plant in well draining professional potting soil keeping crown of plant at same level it was in the plug. Once potted, water immediately and apply a broad spectrum fungicide according to directions to avoid crown and root rot.
Homeowner Planting and Maintenance Tips:
Plant in average, well-drained soil in full sun.

Printed at www.netherlandbulb.com
© Copyright 2020 Netherland Bulb Company. All Rights Reserved.
13 McFadden Rd · Easton, PA 18045 · Tel.: 1.800.78TULIP