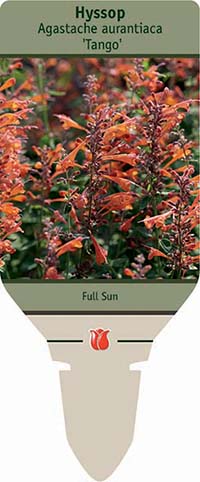 Photo © Netherland Bulb Company, Images may not be copied,
altered or reproduced without express written consent.
Hyssop
Agastache aurantiaca 'Tango'
Anise scented, deep green foliage with showy, bright orange-red blooms.
Introduced in 2011, Agastache aurantiaca Tango TM was bred specifically to tolerate wet or humid summers better than other cultivars.This outstanding perennial features trumpet shaped blooms of sizzling hot red-orange. Selected for its dense flowering spikes and more vigorous growth, 'Tango' also has a compact habit and good branching when compared to prior cultivars.
The distinctive blooms open up along a tall dark stalk that stands about 30 to 40cm (12 to 16in) in height. A really happy Tango can get up to 50cm (20in) to the top of its flower stalk. They bloom steadily from about mid-summer and continue deep into autumn.
Characteristics:
Bloom Time:
Blooms early summer, Blooms fall
Features and Usage:






Greenhouse Growing Instructions:
Grow on at 65-70° F in long days with high light conditions. Water moderately, allowing soil to dry a little in between. Once actively growing feed at 75-100 ppm N with each watering. Plants will generally finish in 8-10 weeks based on growing conditions. Pinch once to increase branching habit. Shear post bloom.
Plants Per Gallon: 1
Storage Temperature Prior to Planting: 45-60
Cooler Humidity Prior to Planting: High
Transplanting Instructions:
Plant in professional potting soil keeping crown of plant at same level it was in the plug. Water immediately and apply a broad spectrum fungicide according to directions to avoid crown and root rot. Avoid overwatering.
Homeowner Planting and Maintenance Tips:
Easy to grow in containers and patio gardens. Plant in well-drained soil in full sun. Will tolerate dry spells. Deadheading to prevent self seeding throughout the season is suggested.

Printed at www.netherlandbulb.com
© Copyright 2020 Netherland Bulb Company. All Rights Reserved.
13 McFadden Rd · Easton, PA 18045 · Tel.: 1.800.78TULIP