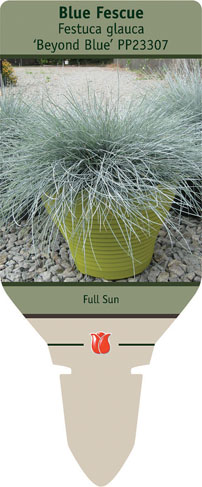 Photo © Netherland Bulb Company, Images may not be copied,
altered or reproduced without express written consent.
Blue Fescue
Festuca glauca 'Beyond Blue'
PP23,307
This ornamental grass forms dense clumps of striking, powdery blue foliage. Bluest blue fescue yet! The pure blue clumps are crowned with tan flowers in early summer.
There are several selections of Blue Fescue, all of them valued for their clumping habit, and display of colourful, grassy foliage. This selection forms a dense tuft of bluer-than-blue leaves that remain blue all season. Spikes of tan flowers in early summer. Excellent for mass planting, edging, or in the rock garden. Clumps are easily divided in early spring, and this should be done every 2 to 3 years. Evergreen in mild areas, in colder winter regions the leaves should be trimmed back in late winter right to the base. Flower spikes may also be removed in summer, if desired. USPP#23307: unlicensed propagation prohibited.
Characteristics:
Bloom Time:
Blooms late spring to early summer
Features and Usage:



Greenhouse Growing Instructions:
Grow on at 40-55° F with high light levels keeping slightly dry and never wet as that will stress the plants. Festuca has light fertility needs but if blue color fades apply 100-200 ppm Nitrogen to restore. Plants will generally finish in 6-10 weeks based on growing conditions. Cold season grass.
Plants Per Gallon: 1
Storage Temperature Prior to Planting: 45-60
Cooler Humidity Prior to Planting: High
Transplanting Instructions:
Plant in well draining professional potting soil keeping crown of plant at same level it was in the plug. Once potted, water immediately and apply a broad spectrum fungicide according to directions to avoid crown and root rot.
Homeowner Planting and Maintenance Tips:
Easy to grow in well-drained soil in full sun. This grass can tolerate drought and poor soil conditions once established. Stays blue and does not "brown out" during the season. Perfect to plant in containers, along borders, or as a ground cover.

Printed at www.netherlandbulb.com
© Copyright 2020 Netherland Bulb Company. All Rights Reserved.
13 McFadden Rd · Easton, PA 18045 · Tel.: 1.800.78TULIP