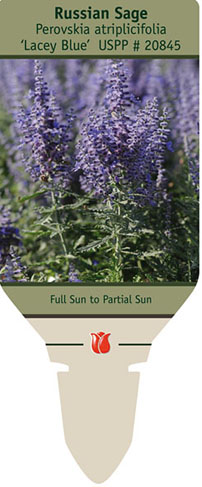 Photo © Netherland Bulb Company, Images may not be copied,
altered or reproduced without express written consent.
Russian Sage
Perovskia atriplicifolia 'Lacey Blue'
PP20,845
'Lacey Blue' has the largest flowers and shortest stems of all perovskia and silvery green foliage. Outstanding performer in the garden with a long bloom season.
Russian Sage is a perennial with an exceptionally long season of interest. This compact British introduction forms a bushy mound of fragrant grey-green leaves, bearing copious spikes of lavender-blue flowers from mid-summer on. Great for smaller gardens and terrific in mixed containers. Prune back to 6 inches in the spring. Drought tolerant, once established. Developed at Liss Forest Nursery in the UK. USPP#20845: unlicensed propagation prohibited. Registered with COPF.
Characteristics:
Bloom Time:
Blooms summer to fall
Mature Height:
18-20 Inches
Features and Usage:






Greenhouse Growing Instructions:
Grow on at 65-75° F in high light to keep plants from stretching. Keep lightly moist to slightly dry, never wet and provide good air circulation to avoid disease. Once actively growing feed at 75-100 ppm N with each watering. Pinch for well branched plants. Generally finish in 8-10 weeks.
Plants Per Gallon: 1
Storage Temperature Prior to Planting: 38
Cooler Humidity Prior to Planting: Low
Transplanting Instructions:
Plant in well draining professional potting soil keeping crown of plant at same level it was in the plug. Once potted, water lightly and apply a broad spectrum fungicide according to directions to avoid crown and root rot.
Homeowner Planting and Maintenance Tips:
Plant in average to poor, but well-drained soil in full sun.

Printed at www.netherlandbulb.com
© Copyright 2020 Netherland Bulb Company. All Rights Reserved.
13 McFadden Rd · Easton, PA 18045 · Tel.: 1.800.78TULIP