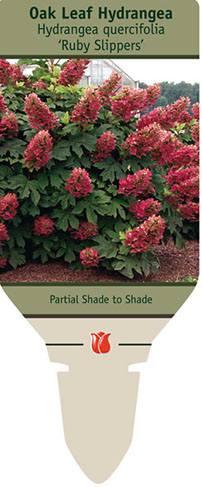 Photo © Netherland Bulb Company, Images may not be copied,
altered or reproduced without express written consent.
Oak Leaf Hydrangea
Hydrangea quercifolia 'Ruby Slippers'
Compact shrub that tolerates drier soil and has oak-like leaves with great fall color.
Characteristics:
Bloom Time:
Blooms summer
Mature Height:
36-48 Inches
Exposure:
Full Sun,Partial Sun
Features and Usage:




Greenhouse Growing Instructions:
Grow at 55-65°F in medium-high light. Water management is key, keep evenly moist. Provide good air circulation and keep leaves dry to avoid disease. Once actively growing, drop day temperature to 55° F. 50% shade is advised in late spring through summer.
Plants Per Gallon: 1
Storage Temperature Prior to Planting: 45-60
Cooler Humidity Prior to Planting: High
Transplanting Instructions:
Plant in well draining professional potting soil keeping crown of plant at same level it was in the plug. Once potted, water immediately and apply a broad spectrum fungicide according to directions to avoid crown and root rot.
Homeowner Planting and Maintenance Tips:
Very easy to grow in partial sun to full sun. This hydrangea blooms on both new and old wood. If it should ever need pruning for space reasons, the best time is late summer to reduce the chance of removing flower buds that are developing for next season.

Printed at www.netherlandbulb.com
© Copyright 2021 Netherland Bulb Company. All Rights Reserved.
13 McFadden Rd · Easton, PA 18045 · Tel.: 1.800.78TULIP