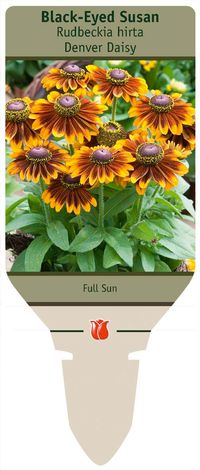 Photo © Netherland Bulb Company, Images may not be copied,
altered or reproduced without express written consent.
Black-Eyed Susan
Rudbeckia hirta 'Denver Daisy'
Summer long flower power with great heat tolerance on this sturdy coneflower.
Gloriosa Daisy hybrids are short-lived perennials, sometimes treated as annuals. Often these will survive a few winters, or at least self seed. This midsized strain produces large golden-yellow daisies, the black cone surrounded by a big mahogany-red eye. Flowers for months on end, on a compact, bushy plant. An outstanding cut flower. Removing faded blossoms regularly will greatly increase the flowering time. Seed heads have good winter interest, and can be used in dried arrangements. Fairly drought tolerant, once established. Wonderful in mixed containers. Bred by Ernst Benary Seeds to commemorate the 150th anniversary of Denver, CO.
Characteristics:
Bloom Time:
Blooms mid summer to fall
Mature Height:
36-38 Inches
Exposure:
Full Sun,Partial Shade
Features and Usage:





Greenhouse Growing Instructions:
Grow on at 65-70° F in long days with high light levels. Keep young plants on the dry side, never overly wet. Once actively growing feed at 75-150 ppm N with each watering and now keep evenly moist. Plants generally finish in 6-8 weeks based on growing conditions.
Plants Per Gallon: 1
Storage Temperature Prior to Planting: 38
Cooler Humidity Prior to Planting: Low
Transplanting Instructions:
Plant in well draining professional potting soil keeping crown of plant at same level it was in the plug. Once potted, water immediately and apply a broad spectrum fungicide according to directions to avoid crown and root rot.
Homeowner Planting and Maintenance Tips:
Easy to grow in moist, well-drained soil in full sun to partial shade.

Printed at www.netherlandbulb.com
© Copyright 2020 Netherland Bulb Company. All Rights Reserved.
13 McFadden Rd · Easton, PA 18045 · Tel.: 1.800.78TULIP