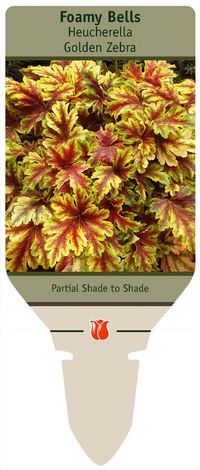 Photo © Netherland Bulb Company, Images may not be copied,
altered or reproduced without express written consent.
Foamy Bells
Heucherella 'Gold Zebra'
PP22,104, COPF
Bright yellow feathery leaves with bold dark red markings.
A hybrid between Coral Bells and Foam Flower, combining the best traits into one plant. This selection forms a mound of feathery, bright yellow leaves that are boldly marked with dark red. Sprays of small white bell flowers appear in spring. A great choice for adding drama to mixed containers and the front of the border. Evergreen in mild winter regions. Foliage should be left alone in the fall, but plants may be tidied up in spring by removing any brown or tired-looking leaves. An introduction from Terra Nova Nurseries of Oregon. USPP#22104: unlicensed propagation prohibited. Registered with COPF.
Characteristics:
Bloom Time:
Blooms summer
Mature Height:
8-18 Inches
Exposure:
Full Shade,Partial Shade
Features and Usage:




Greenhouse Growing Instructions:
Grow on at 65-68°F providing 35% - 50% shade. Keep evenly moist but not overly wet or dry. Allow soil to dry slightly between watering for healthy roots. Once actively growing, begin feeding at 50-100 ppm N with each irrigation. Plants generally finish in 6-8 weeks depending on growing conditions.
Plants Per Gallon: 1
Storage Temperature Prior to Planting: 38
Cooler Humidity Prior to Planting: Low
Transplanting Instructions:
Plant in well draining professional potting soil keeping crown of plant at same level it was in the plug. Once potted, water immediately and apply a broad spectrum fungicide according to directions to avoid crown and root rot.
Homeowner Planting and Maintenance Tips:
Plant in moist, rich, well-drained soil in partial shade to shade.

Printed at www.netherlandbulb.com
© Copyright 2020 Netherland Bulb Company. All Rights Reserved.
13 McFadden Rd · Easton, PA 18045 · Tel.: 1.800.78TULIP