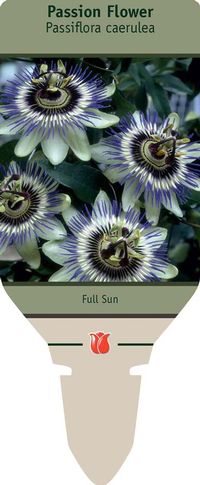 Photo © Netherland Bulb Company, Images may not be copied,
altered or reproduced without express written consent.
Passion Flower
Passiflora caerulea
Exotic white skirt of petals with blue fringe deepening to purple surround greenish yellow stamens; produces edible fruit.
1) Dig a hole two times the width of the root ball, gently remove packing material from root ball.
2) Set root ball in hole, making top even with ground level, fill in around root ball with soil mix to ground level, water to settle mix and add more soil if needed.
3) Form a water basin around the plant with a mound of soil, water once again filling the water basin.
4) Add a 1/4"layer of mulch to conserve moisture and water thoroughly once to two times weekly until plant is established.
Characteristics:
Bloom Time:
Blooms summer
Mature Height:
96-120 Inches
Features and Usage:





Greenhouse Growing Instructions:
Grow on at 65-75° F under long days to establish a good root system. Keep evenly moist, never overly wet or dry. Once actively growing provide stake for vine to climb. Pinching will increase branching. Generally finish in 8-10 weeks based on growing conditions.
Plants Per Gallon: 1
Storage Temperature Prior to Planting: 38
Cooler Humidity Prior to Planting: Low
Transplanting Instructions:
Plant in well draining professional potting soil keeping crown of plant at same level it was in the plug. Once potted, water immediately and apply a broad spectrum fungicide according to directions to avoid crown and root rot.
Homeowner Planting and Maintenance Tips:
Easy to grow in well-drained soil in full sun. This plant does not like to be disturbed once established.

Printed at www.netherlandbulb.com
© Copyright 2020 Netherland Bulb Company. All Rights Reserved.
13 McFadden Rd · Easton, PA 18045 · Tel.: 1.800.78TULIP