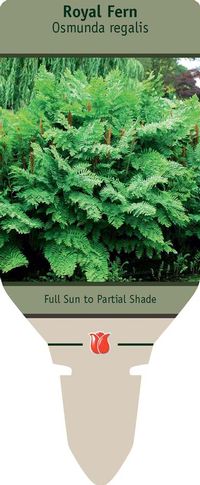 Photo © Netherland Bulb Company, Images may not be copied,
altered or reproduced without express written consent.
Royal Fern
Osmunda regalis
Wide open fronds start out red then mature to a healthy green.
Native all over the Northern Hemisphere, Royal Fern is one of the largest and most spectacular species for the garden. It forms an upright clump with tall, arching fronds of bright green divided leaves. Brownish spore-bearing pinnae are clustered at the end of each leafy frond in a short spike. Loves moist to wet soil, tolerating full sun in cool summer regions. Old leaves should be pruned to the ground in late winter. Deciduous. Received a Royal Horticultural Society Award of Garden Merit (1993).
Characteristics:
Bloom Time:
Foliage plant all season
Mature Height:
35-59 Inches
Exposure:
Full Shade,Partial Shade
Features and Usage:



Greenhouse Growing Instructions:
Grow on at 60-70° F to flush fronds, once fully open drop temperature to 58-63° F. Provide 50% shade, keep evenly moist and never allow to completely dry out. Water early so fronds dry before nightfall. Fertilize sparingly. Plants generally finish in 6-10 weeks based on growing conditions.
Plants Per Gallon: 1
Storage Temperature Prior to Planting: 38
Cooler Humidity Prior to Planting: Low
Transplanting Instructions:
Plant in well draining soil keeping crown of the plant at the same level it was in the plug. Once potted, water immediately and apply a broad spectrum fungicide according to directions to avoid crown and root rot.
Homeowner Planting and Maintenance Tips:
Easy to grow in humus-rich soil in partial shade to deep shade. Perfect for the woodland garden.

Printed at www.netherlandbulb.com
© Copyright 2020 Netherland Bulb Company. All Rights Reserved.
13 McFadden Rd · Easton, PA 18045 · Tel.: 1.800.78TULIP