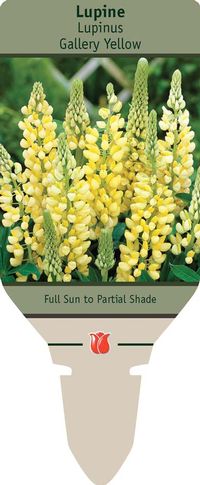 Photo © Netherland Bulb Company, Images may not be copied,
altered or reproduced without express written consent.
Lupine
Lupinus 'Gallery Yellow'
Medium green palmate foliage with stalks of dense sweet pea-like flowers.
Xerces Society - special value to native bees. The colourful spikes of Lupines are an unforgettable sight in the early summer border. Plants grow best in a deep, rich soil, slightly on the acidic side. This compact selection features tall spires of yellow flowers in late spring through early summer. The ?Gallery Series? hybrids were developed from the species Lupinus polyphyllus, a North American native hailing from the Pacific Northwest. As these are biennial or short-lived perennials, allow some plants to set seed for future generations, or trim back hard after flowering is over. Flower spikes are great for cutting. CAUTION: Harmful if eaten.
Characteristics:
Bloom Time:
Blooms early to mid summer
Mature Height:
18-24 Inches
Exposure:
Full Sun,Partial Shade
Features and Usage:





Greenhouse Growing Instructions:
Grow on at 60-65° F under long day conditions. Moderate moisture requirements, never overly wet, allowing to dry some between watering. Once plants are actively growing fertilize at 75-100 ppm N with each irrigation. Plants generally finish in 8-10 weeks based on growing conditions.

Plants Per Gallon: 1
Storage Temperature Prior to Planting: 45-60
Cooler Humidity Prior to Planting: High
Transplanting Instructions:
Plant in well draining potting soil keeping crown of plant at same level it was in the plug. Handle gently as Lupines do not like to be disturbed. Once planted, water immediately and apply a broad spectrum fungicide To avoid crown and root rot.
Homeowner Planting and Maintenance Tips:
Plant in rich, well-drained, slightly acidic soil in full sun to partial shade.

Printed at www.netherlandbulb.com
© Copyright 2020 Netherland Bulb Company. All Rights Reserved.
13 McFadden Rd · Easton, PA 18045 · Tel.: 1.800.78TULIP