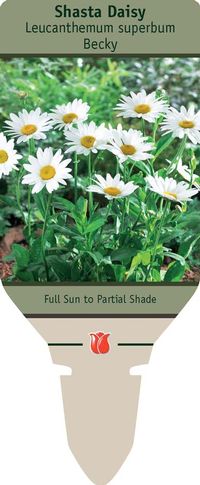 Photo © Netherland Bulb Company, Images may not be copied,
altered or reproduced without express written consent.
Shasta Daisy
Leucanthemum superbum 'Becky'
Sturdy stems of standard daisies that bloom later in the season.
Perennial of the Year 2003
(Formerly Chrysanthemum maximum) No sunny border would seem complete without the familiar presence of Shasta Daisies. This is a very tall selection that exhibits excellent tolerance to summer heat and humidity. Flowers are large single white daisies with a yellow eye, valued in the garden and excellent for cutting. Divide plants every 2 to 3 years to maintain vigour. Removing faded flowers regularly will greatly increase the blooming time. May require staking if grown in rich soil. Attractive to butterflies.
Characteristics:
Bloom Time:
Blooms summer to fall
Mature Height:
35-41 Inches
Exposure:
Full Sun,Partial Shade
Features and Usage:






Greenhouse Growing Instructions:
Grow at 55-65° F under long days with high light conditions. Keep evenly moist but not overly wet. Once actively growing, feed at 50-100 ppm N with each watering. Generally finishes in 6-8 weeks based on growing conditions. Deadheading will encourage re-bloom.
Plants Per Gallon: 1
Storage Temperature Prior to Planting: 38
Cooler Humidity Prior to Planting: Low
Transplanting Instructions:
Plant in well draining professional potting soil keeping crown of plant at same level it was in the plug. Once potted, water immediately and apply a broad spectrum fungicide according to directions to avoid crown and root rot.
Homeowner Planting and Maintenance Tips:
Plant in well-drained soil in full sun to partial shade.

Printed at www.netherlandbulb.com
© Copyright 2020 Netherland Bulb Company. All Rights Reserved.
13 McFadden Rd · Easton, PA 18045 · Tel.: 1.800.78TULIP