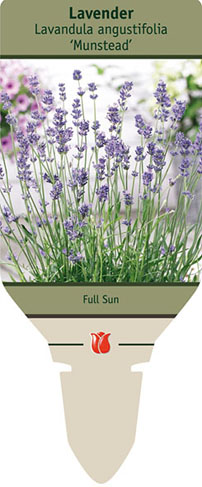 Photo © Netherland Bulb Company, Images may not be copied,
altered or reproduced without express written consent.
Lavender
Lavandula angustifolia 'Munstead'
Compact blue green foliage and lavender blue blooms; extremely fragrant.
Lavender is actually a low-growing shrub, native to the Mediterranean region. The fragrant flowers and foliage make it a favourite for herb gardens and in the perennial border. Will also grow fine in tubs or containers, but in colder regions the plants may then need shelter for the winter. This reliable, compact selection has grey-green foliage and bright lavender-blue flowers. Prune lightly in early spring, no harder than 4 inches. Lavender MUST have good drainage in order to avoid root rot problems. Consider growing in a raised bed or rock garden. Drought tolerant once established.
Characteristics:
Bloom Time:
Blooms summer
Mature Height:
12-16 Inches
Features and Usage:







Greenhouse Growing Instructions:
Grow on at 65-70° F in high light levels. Keep soil on the drier side till new sprouts appear then slightly moist, allowing to dry some between watering. Provide good air circulation, avoid overwatering & wet foliage to prevent disease. Once actively growing, constant 50-75 ppm N is best. Generally finish in 8-10 weeks depending on growing conditions.
Plants Per Gallon: 1
Storage Temperature Prior to Planting: 45-60
Cooler Humidity Prior to Planting: High
Transplanting Instructions:
Plant in well draining professional potting soil keeping crown of plant at same level it was in the plug. Once potted, water sparingly and apply a broad spectrum fungicide according to directions to avoid crown and root rot.
Homeowner Planting and Maintenance Tips:
These plants prefer well-drained soil in full sun. Water needs: light watering once established.

Printed at www.netherlandbulb.com
© Copyright 2020 Netherland Bulb Company. All Rights Reserved.
13 McFadden Rd · Easton, PA 18045 · Tel.: 1.800.78TULIP