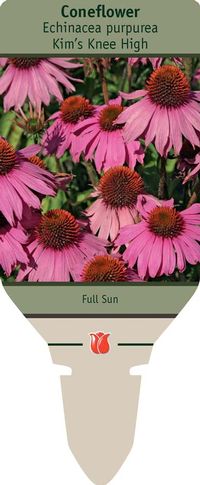 Photo © Netherland Bulb Company, Images may not be copied,
altered or reproduced without express written consent.
Coneflower
Echinacea purpurea 'Kim's Knee High'
PP012242
Dwarf daisy-like form with recurved petals surrounding orangey-bronze cone.
A terrific selection of our native Purple Coneflower. This is compact and bushy in habit, making it ideal for edging, containers, or towards the front of a sunny border. Flowers are mauve-pink with an orange cone, the petals drooping gracefully. Removing faded flowers regularly will greatly increase the flowering period. Seedheads have good winter interest. Outstanding for cutting. Attractive to butterflies. Proving to be a very versatile plant with a multitude of uses. USPP#12242: unlicensed propagation prohibited.
Characteristics:
Bloom Time:
Blooms mid summer to fall
Mature Height:
18-23 Inches
Features and Usage:




Greenhouse Growing Instructions:
Grow on at 68-70° F in 12-16 hour days to promote flowering. Remove initial buds to bulk up plants. Water moderately and allow plants to dry a little. Once actively growing, fertilize lightly. Echinacea do not like to be overly wet or over-fertilized. Plants generally finish in 8-10 weeks based on growing conditions.
Plants Per Gallon: 1
Storage Temperature Prior to Planting: 45-60
Cooler Humidity Prior to Planting: High
Transplanting Instructions:
Plant in well draining professional potting soil keeping crown of plant at same level it was in the plug. Once potted, water immediately and apply a broad spectrum fungicide according to directions to avoid crown and root rot.
Homeowner Planting and Maintenance Tips:
Plant in moist to dry well-drained soil in full sun. Drought tolerant once established.

Printed at www.netherlandbulb.com
© Copyright 2022 Netherland Bulb Company. All Rights Reserved.
13 McFadden Rd · Easton, PA 18045 · Tel.: 1.800.78TULIP