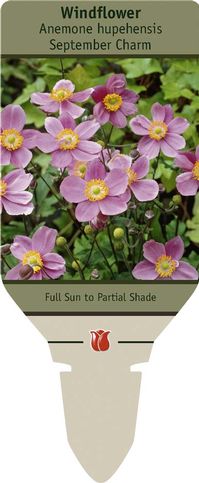 Photo © Netherland Bulb Company, Images may not be copied,
altered or reproduced without express written consent.
Japanese Anemone
Anemone hupehensis 'September Charm'
Large single rose-pink flowers sit atop dark green foliage.
Japanese Anemone are outstanding plants for the late summer and fall garden. The branching stems of poppy-like flowers are superb for cutting. Plants prefer a rich, moist site, spreading to form a large patch. This selection features single, rose-pink flowers, each petal darker on the backside. Good for part shade. Use a winter mulch in colder regions, particularly if planting in the fall. Easily divided in early spring. May need to be staked by late summer.

Characteristics:
Bloom Time:
Blooms late summer to fall
Mature Height:
23-35 Inches
Exposure:
Full Sun,Partial Shade
Features and Usage:





Greenhouse Growing Instructions:
Grow on at 55-65° F in long days, keeping evenly moist, never completely dry. Once actively growing, feed at 75-125 ppm N with each watering. Plants generally finish in 6-8 weeks based on growing conditions.
Plants Per Gallon: 1
Storage Temperature Prior to Planting: 38
Cooler Humidity Prior to Planting: Low
Transplanting Instructions:
Plant in professional potting soil keeping crown of plant at the soil surface. Water immediately and apply a broad spectrum fungicide according to directions to avoid crown and root rot.
Homeowner Planting and Maintenance Tips:
Plant in moist, well-drained soil in full sun to partial shade. Plant in an area that is protected from the wind.

Printed at www.netherlandbulb.com
© Copyright 2021 Netherland Bulb Company. All Rights Reserved.
13 McFadden Rd · Easton, PA 18045 · Tel.: 1.800.78TULIP