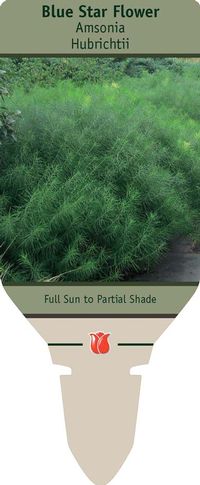 Photo © Netherland Bulb Company, Images may not be copied,
altered or reproduced without express written consent.
Blue Star Flower
Amsonia hubrichtii
Wispy, light, airy foliage holds up small clusters of little star-like flowers. This variety is know for it's brilliant fall color.
Perennial of the Year 2011
A little-known perennial native to the southern USA, and ideally suited to the border or wildflower meadow garden. Plants are long-lived, forming an arching clump of soft, feathery green leaves. Pale-blue starry flowers appear in late spring, and these are nice for cutting. Excellent bright golden fall color. Makes an interesting specimen plant, surrounded by something low and spreading. Clumps are easily divided in early spring, before the new growth starts. Deserves to be better known and grown. Tolerant of hot, humid summer regions.
Characteristics:
Bloom Time:
Blooms late spring to early summer
Mature Height:
23-35 Inches
Exposure:
Full Sun,Partial Shade
Features and Usage:





Greenhouse Growing Instructions:
Grow at 55-65° F while keeping soil evenly moist but allowing it to dry thoroughly between watering. Once plants are actively growing, fertilize accordingly. Plants generally finish in 6-8 weeks based on growing conditions. Can trim after flowering to increase plant density.
Plants Per Gallon: 1
Storage Temperature Prior to Planting: 45-60
Cooler Humidity Prior to Planting: High
Transplanting Instructions:
Plant in well draining professional potting soil keeping crown of plant at same level it was in the plug. Once potted, water immediately and apply a broad spectrum fungicide according to directions to avoid crown and root rot.
Homeowner Planting and Maintenance Tips:
Plant in well-drained soil in full sun to partial shade. Best fall foliage color usually occurs in full sun, however, flowers generally last longer if given some afternoon shade in hot sun areas.

Printed at www.netherlandbulb.com
© Copyright 2021 Netherland Bulb Company. All Rights Reserved.
13 McFadden Rd · Easton, PA 18045 · Tel.: 1.800.78TULIP