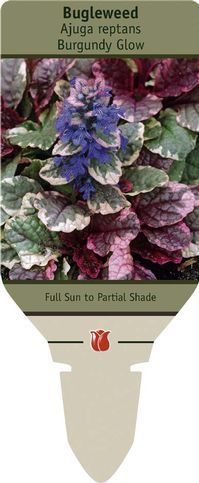 Photo © Netherland Bulb Company, Images may not be copied,
altered or reproduced without express written consent.
Bugleweed
Ajuga reptans 'Burgundy Glow'
Tri-colored ground cover in shades of green, burgundy, and cream; produces blue flower spikes.
Also known as Bugleweed, there are many selections, used widely as ground covers for shady gardens. This is one of the most popular, forming a spreading mound of leaves dappled in green, cream and smoky pink. Spikes of blue flowers appear in spring. Excellent for edging. Be sure to remove any all green or bronze shoots that may appear during the growing season. Excellent fall and winter effect, developing rich bronze and burgundy tones. Evergreen. Plants may be easily divided in spring or early fall. Especially nice in containers or tubs. May be used to cover small areas but not recommended as a large area ground cover: bronze or green-leaved selections of Ajuga are better suited for this purpose.
Characteristics:
Bloom Time:
Blooms late spring to early summer
Mature Height:
4-6 Inches
Features and Usage:





Greenhouse Growing Instructions:
Grow on at 55-75° F to promote root growth. Keep evenly moist and never let plant to completely dry out. Once actively growing feed at 50-75 ppm N with each watering. Plants will generally finish in 8-10 weeks based on growing conditions.
Plants Per Gallon: 1
Storage Temperature Prior to Planting: 38
Cooler Humidity Prior to Planting: Low
Transplanting Instructions:
Plant in professional potting soil keeping crown of plant at same level it was in the plug. Water immediately and apply a broad spectrum fungicide according to directions to avoid crown and root rot.
Homeowner Planting and Maintenance Tips:
Easy to grow in moist soil in partial shade.

Printed at www.netherlandbulb.com
© Copyright 2021 Netherland Bulb Company. All Rights Reserved.
13 McFadden Rd · Easton, PA 18045 · Tel.: 1.800.78TULIP