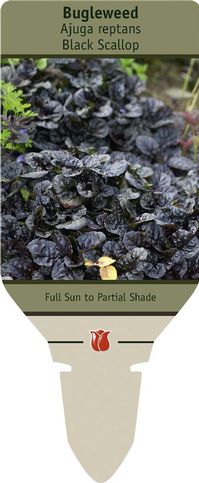 Photo © Netherland Bulb Company, Images may not be copied,
altered or reproduced without express written consent.
Bugleweed
Ajuga reptans 'Black Scallop'
PP015815, COPF
Glossy, scalloped, virtually black leaves make a great ground cover with deep blue flowers in spring.
Also known as Bugleweed, this makes a superb evergreen groundcover. Plants quickly form a low carpet of rounded, glossy leaves, purple-black in color with a crinkly or scalloped texture. Short spikes of deep blue flowers appear in mid to late spring. Vigorous habit. Dislikes very dry shade. A fairly sun-tolerant selection, in cool-summer regions direct sun will bring out the best color in the leaves. Will perform well in tubs or mixed containers. USPP#15815: unlicensed propagation prohibited. Registered with COPF.

Characteristics:
Bloom Time:
Blooms late spring to early summer
Mature Height:
4-6 Inches
Features and Usage:





Greenhouse Growing Instructions:
Grow on at 55-75° F to promote root growth. Keep evenly moist and never let plant to completely dry out. Once actively growing feed at 50-75 ppm N with each watering. Plants will generally finish in 8-10 weeks based on growing conditions.
Plants Per Gallon: 1
Storage Temperature Prior to Planting: 38
Cooler Humidity Prior to Planting: Low
Transplanting Instructions:
Plant in professional potting soil keeping crown of plant at same level it was in the plug. Water immediately and apply a broad spectrum fungicide according to directions to avoid crown and root rot.
Homeowner Planting and Maintenance Tips:
Easy to grow in moist soil in partial shade.

Printed at www.netherlandbulb.com
© Copyright 2022 Netherland Bulb Company. All Rights Reserved.
13 McFadden Rd · Easton, PA 18045 · Tel.: 1.800.78TULIP