Spring Blends of Beauty Packaging
Blends of Beauty®
Collection
This new line of Blends of Beauty® blends both beauty and history. The mixes provide consumers with the sophisticated mixtures that consumers want today with the old world charm of Dutch bulb bags which brings us back to a simpler time years ago. The front of the bag provides a classic bulb bag look while the back of the bag provides a UPC code.

Varieties Found In
2019 Spring Collection
Gladiolus & Dahlia Bright Blend

Gladiolus Bright Blend

Dahlia Red Blend

Gladiolus Red Blend

Dahlia Purple Blend

Gladiolus Purple Blend

Dahlia Orange Blend

Gladiolus Orange Blend

Echinacea Cheyenne Spirit Blend

Lillium Rose Lily Blend

Dahlia Perception Blend

Zantedeschia Orange Blend

Dahlia Fubuki Blend

Shades of White Blend

Shades of Pink Blend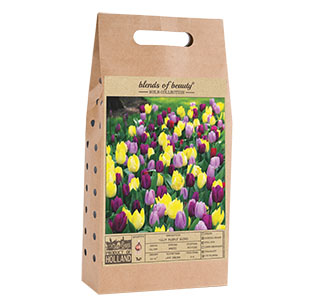 Fall Blends of Beauty Packaging
Varieties Found In
2018 Fall Collection
Daffodil Blends (White, Yellow, & Pink)

Landscape Blends (Tulip Royal Prince, Tulip Breeders, & Tulip Delight)

Red Blends (Tulip Plant to Impress, Tulip Candy Cane, & Tulip Red Hot)

Purple Blends (Tulip, Allium, & Tulip & Muscari Blend)

Pink Blends (Tulip, Double Tulip, & Narcissus)
Our 2019 Spring and 2018 Fall Catalogs are available! We have salesmen in most regions of the country, that would be happy to visit with you. Otherwise, for additional help, our customer service representatives are available Monday through Friday from 9AM to 5PM EST - 1.800.78.TULIP.
Request A Catalog - Order a catalog online if you are not already on our mailing list.