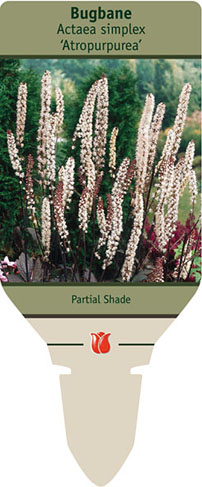 Photo © Netherland Bulb Company, Images may not be copied,
altered or reproduced without express written consent.
Black Bugbane
Actaea simplex 'Atropurpurea'
Graceful wands of fragrant bottle brush blooms supported by bushy, colorful, deeply veined foliage.
(=Actaea simplex) Bugbanes are late-season blooming perennials, generally planted in rich moist woodland situations. This is a variable strain, valued for its large Astilbe-like leaves that range in colour from deep green to bronzy purple. Arching wands or bottlebrush spikes of fragrant pale-pink flowers rise above the clump in early fall. Great for cutting. In cool summer areas this will grow well in sunny sites, otherwise choose a part-shade location protected from hot afternoon sun. Plants will take about three years to develop into a mature clump. A striking specimen!
Characteristics:
Mature Height:
59-70 Inches
Exposure:
Full Sun,Partial Shade
Features and Usage:




Greenhouse Growing Instructions:
Start out on the dry side until new growth appears, then keep soil evenly moist.
Plants Per Gallon: 1
Storage Temperature Prior to Planting: 38
Cooler Humidity Prior to Planting: Low
Transplanting Instructions:
Plant the crown of the plant at or just below the soil level.
Homeowner Planting and Maintenance Tips:
Plant in the shaded woodland garden in humus-rich soil.

Printed at www.netherlandbulb.com
© Copyright 2016 Netherland Bulb Company. All Rights Reserved.
13 McFadden Rd · Easton, PA 18045 · Tel.: 1.800.78TULIP