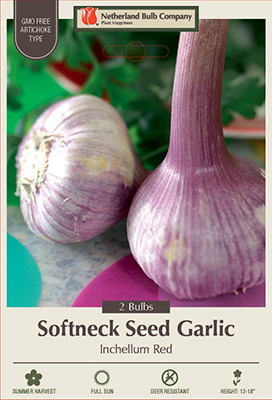 Photo © Netherland Bulb Company, Images may not be copied,
altered or reproduced without express written consent.
Softneck Seed Garlic - Artichoke Type
Allium sativum 'Inchelium Red Seed Garlic'
Inchelium Red is a large and beautiful artichoke garlic with delightfully robust flavor but not so strong as to be overpowering.
Harvests early summer - stores into mid-winter or longer.
Grows very well in warm winter areas.
Robust flavor but not overpowering.
Large and healthy garlic to grow.
Produces 10 to 12 very large cloves.
Relatively resistant to most of the diseases.
Characteristics:
Bloom Time:
Harvest summer
Features and Usage:


Homeowner Planting and Maintenance Tips:
Garlic is easy to grow in well-drained soil in full sun. Gardeners have found that planting garlic in their flower beds helps ward off Japanese beetles.

Printed at www.netherlandbulb.com
© Copyright 2023 Netherland Bulb Company. All Rights Reserved.
13 McFadden Rd · Easton, PA 18045 · Tel.: 1.800.78TULIP