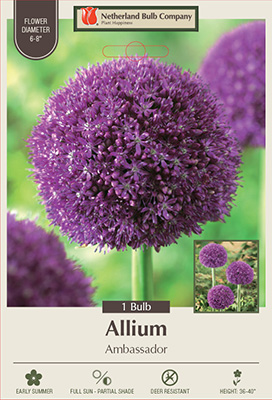 Photo © Netherland Bulb Company, Images may not be copied,
altered or reproduced without express written consent.
Flowering Onion
Allium 'Ambassador'
A single stem with basal foliage supports a round sphere of bright purple florets measuring 6-8" in diameter.
Characteristics:
Bloom Time:
Blooms early summer
Exposure:
Full Sun,Partial Shade
Features and Usage:





Homeowner Planting and Maintenance Tips:
Alliums are deer resistant and easy to grow in well-drained soil in full sun to partial shade. Water well after planting. Great ornamental value in the landscape and amazing cut or dried flowers.

Printed at www.netherlandbulb.com
© Copyright 2023 Netherland Bulb Company. All Rights Reserved.
13 McFadden Rd · Easton, PA 18045 · Tel.: 1.800.78TULIP