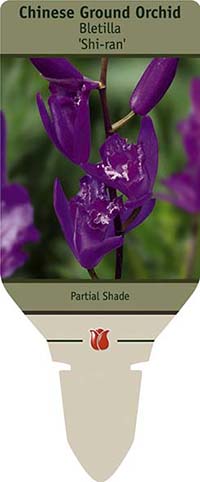 Photo © Netherland Bulb Company, Images may not be copied,
altered or reproduced without express written consent.
Chinese Ground Orchid
Bletilla striata 'Shi-ran'
This Chinese Ground Orchid is a graceful variety with deep purple blooms to enjoy during spring and early summer.
Characteristics:
Bloom Time:
Blooms late spring to early summer
Features and Usage:


Greenhouse Growing Instructions:
Grow at 48-55°F to promote root growth while keeping evenly moist and provide shade. Once actively growing, fertilizer can be applied.
Plants Per Gallon: 1
Transplanting Instructions:
For best results, use quart size pot. Fill pot with well draining soil, place root in pot and cover with 2" of soil.
Homeowner Planting and Maintenance Tips:
Plant in moist soil in partial shade.

Printed at www.netherlandbulb.com
© Copyright 2020 Netherland Bulb Company. All Rights Reserved.
13 McFadden Rd · Easton, PA 18045 · Tel.: 1.800.78TULIP