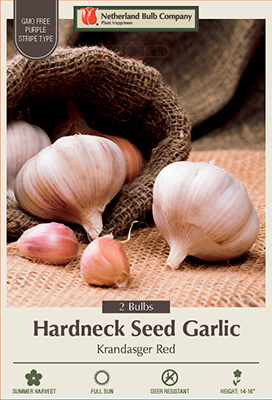 Photo © Netherland Bulb Company, Images may not be copied,
altered or reproduced without express written consent.
Hardneck Seed Garlic - Purple Stripe Type
Allium sativum ophioscorodon 'Krandasger Red Seed Garlic'
Large purple striped garlic with 6-8 plump cloves per bulb. Flavor can be intense, the colder the climate it is grown in, the more intense the flavor is.
Uniform bulb shape
Attractive coloring
Unique markings
Beautiful bulbs
Characteristics:
Bloom Time:
Harvest mid summer
Mature Height:
14-16 Inches
Features and Usage:


Homeowner Planting and Maintenance Tips:
Garlic is easy to grow in well-drained soil in full sun. Gardeners have found that planting garlic in their flower beds helps ward off Japanese beetles.

Printed at www.netherlandbulb.com
© Copyright 2022 Netherland Bulb Company. All Rights Reserved.
13 McFadden Rd · Easton, PA 18045 · Tel.: 1.800.78TULIP