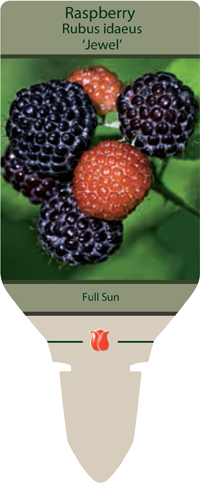 Photo © Netherland Bulb Company, Images may not be copied,
altered or reproduced without express written consent.
Raspberry
Rubus idaeus 'Jewel'
Native to North America; uniquely flavored blue-black berries are a dependable producer.
1) Plant canes 3 feet apart creating hedgerows that are 6 feet apart. Dig a hole two times the width of the root ball in good loose garden soil with a pH of 5.8 to 6.5 amending if necessary.
2) Remove plant from packaging and lightly loosen the bottom of the root ball to release the roots as you set it in place in the hole.
3) Keep the top of the root ball even with soil surface and fill in around the roots. Lightly tamp dirt around your newly planted raspberry.
4) Water well and add additional soil if necessary and water again.
5) Keep weed-free, water when necessary and prune regularly to maintain a quality crop. Fertilizer may be applied in early spring before sprouting and again in late May.
Characteristics:
Bloom Time:
Harvest late spring to early summer
Mature Height:
24-36 Inches
Features and Usage:


Greenhouse Growing Instructions:
Grow at 55-65° F in high light to promote new root growth. Keep soil evenly moist, not overly wet and never completely dry. Provide good air circulation and keep leaves dry to avoid disease. Once plants are actively growing feed with a balanced fertilizer.
Plants Per Gallon: 1
Transplanting Instructions:
Presoak 2 hours prior to planting in well draining soil with 6.0-6.5 pH level. Spread roots down through pot leaving 1" soil covering top of root mass. Once planted, water immediately and apply a broad spectrum fungicide to avoid crown and root rot.
Homeowner Planting and Maintenance Tips:
Plant in well-drained soil in full sun. Loosen soil, spread out roots, and plant root so that the top of the root is 1 inch below the soil line. Good air circulation is important.

Printed at www.netherlandbulb.com
© Copyright 2021 Netherland Bulb Company. All Rights Reserved.
13 McFadden Rd · Easton, PA 18045 · Tel.: 1.800.78TULIP