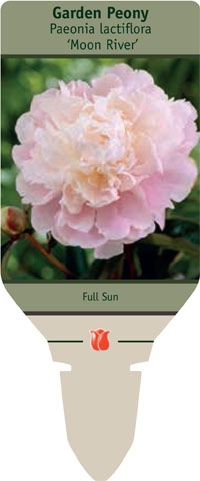 Photo © Netherland Bulb Company, Images may not be copied,
altered or reproduced without express written consent.
Garden Peony
Paeonia lactiflora 'Moon River'
Shrubby clumps of green foliage support this large showy fragrant flower.
Characteristics:
Bloom Time:
Blooms late spring to early summer
Features and Usage:






Greenhouse Growing Instructions:
Peonies prefer to be grown cool (55-60° F). Keep evenly moist allowing to dry slightly between deep watering. Provide good air circulation, keeping leaves dry to avoid disease. Over fertilization will inhibit flowering. Generally finish in 8-10 weeks based on growing conditions. Use plant stakes if necessary.
Plants Per Gallon: 1
Transplanting Instructions:
Plant in well draining soil in container large enough to accommodate the bare root, can trim lower roots if necessary. Place root so eyes are 1-2" below the soil surface after being watered in. Apply a broad spectrum fungicide according to directions to avoid crown and root rot.
Homeowner Planting and Maintenance Tips:
Established roots are easy to grow in moist, well-drained soil in full sun. Once established, peonies are as hardy and dependable as oaks, creating a fantastic season of bloom in your yard year after year.

Printed at www.netherlandbulb.com
© Copyright 2020 Netherland Bulb Company. All Rights Reserved.
13 McFadden Rd · Easton, PA 18045 · Tel.: 1.800.78TULIP