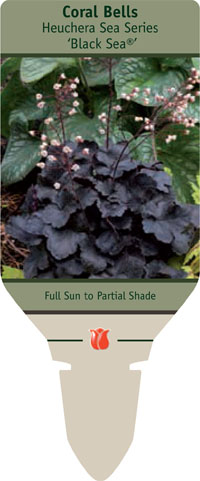 Photo © Netherland Bulb Company, Images may not be copied,
altered or reproduced without express written consent.
Coral Bells
Heuchera 'Black Sea®'
PPAF
Near black foliage and creamy flowers make this an excellent choice for the shady garden.
Characteristics:
Bloom Time:
Blooms spring, Blooms summer
Exposure:
Full Sun,Partial Shade
Features and Usage:




Greenhouse Growing Instructions:
Grow on at 65-70° F providing 35% - 50% shade. Keep evenly moist but not overly wet or dry. Allow soil to dry slightly between watering for healthy roots. Once actively growing, begin feeding at 75-150 ppm N with each irrigation. Plants generally finish in 6-8 weeks depending on growing conditions.
Plants Per Gallon: 1
Transplanting Instructions:
Plant in well draining professional potting soil taking care not to bury the crown which is most common cause of failure with Heuchera. Once potted, water immediately and apply a broad spectrum fungicide according to directions to avoid crown and root rot.
Homeowner Planting and Maintenance Tips:
Plant in moist, rich, well-drained soil in full sun to partial shade.

Printed at www.netherlandbulb.com
© Copyright 2020 Netherland Bulb Company. All Rights Reserved.
13 McFadden Rd · Easton, PA 18045 · Tel.: 1.800.78TULIP