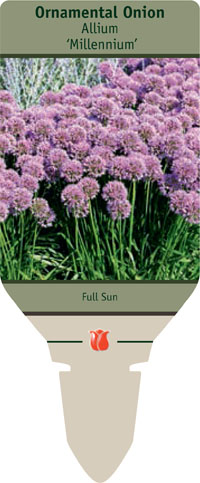 Photo © Netherland Bulb Company, Images may not be copied,
altered or reproduced without express written consent.
Ornamental Onion
Allium 'Millenium'
Rose-purple ball clusters appear just above the foliage on strong stems.
Perennial of the Year 2018
A truly impressive hybrid Ornamental Onion from Mark McDonough considered to be the best available in years. Compact upright clump of glossy, thick, green leaves with 5cm (2") rose-purple ball clusters appearing just above the foliage on strong stems in mid to late summer. Easy to grow. Leaves have a slight onion smell when crushed. Flowers are attractive to butterflies. This looks best when combined with a bushy, low-growing perennial to hide the withering onion leaves at blooming time; hardy Cranesbill Geraniums are an excellent companion. The fleshy bulbs may be lifted and divided after several years, best done after the leaves wither.
2 inch flower diameter.
Characteristics:
Bloom Time:
Blooms mid to late summer
Features and Usage:





Greenhouse Growing Instructions:
Grow on at 65-72° F with high light keeping evenly moist. Allium have low fertility needs and require no pinching, but can be sheared to 3" and allowed to re-flush. Plants generally finish in 6-8 weeks based on growing conditions. Protect from late season frost.
Plants Per Gallon: 1
Transplanting Instructions:
Plant in well draining potting soil keeping crown of plant at same level it was in the plug. Water immediately and apply a broad spectrum fungicide according to directions to avoid crown and root rot.
Homeowner Planting and Maintenance Tips:
Easy to grow in well-drained soil in full sun.

Printed at www.netherlandbulb.com
© Copyright 2022 Netherland Bulb Company. All Rights Reserved.
13 McFadden Rd · Easton, PA 18045 · Tel.: 1.800.78TULIP