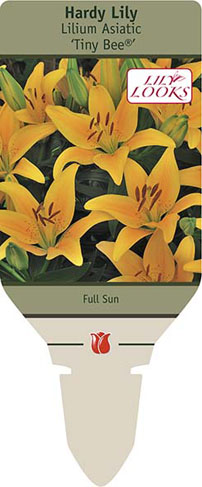 Photo © Netherland Bulb Company, Images may not be copied,
altered or reproduced without express written consent.
Hardy Lily
Lilium Asiatic 'Tiny Bee®'
PP16,255
Slender stalks topped with a cluster of flowers.
One of the Lily Looks TM series developed in The Netherlands. Bred originally for containers, these are versatile garden plants as well. The dwarf habit makes them useful near the front of any sunny border where they put on a great midsummer show. Also equally at home in a rock garden. The best effect comes from massing in good-sized clumps of one variety. This selection has large upfacing flowers of rich yellow with subtle black freckles in the centre. USPP#16255: unlicensed propagation prohibited.
Characteristics:
Bloom Time:
Blooms summer
Mature Height:
12-14 Inches
Exposure:
Full Sun,Partial Sun
Features and Usage:





Greenhouse Growing Instructions:
Grow at 55-60° F night temps. Water lightly until sprouts emerge, then keep evenly moist. Once buds are present never allow soil to completely dry out, since it could cause them to abort. When sprouts are 2-3" tall a fertilizer program can begin as directed.
Plants Per Gallon: 1 to 3
Storage Temperature Prior to Planting: 28
Cooler Humidity Prior to Planting: Low
Transplanting Instructions:
Allow lilies to thaw at 45-55° F to avoid damage to roots. Put 1-2" of potting soil in bottom of pot. Place bulb pointy side up then finish filling pot. Use a broad spectrum fungicide according to directions. Water in really well right after planting.
Homeowner Planting and Maintenance Tips:
Easy to grow in moist, well-drained soil in full sun to partial sun.

Printed at www.netherlandbulb.com
© Copyright 2020 Netherland Bulb Company. All Rights Reserved.
13 McFadden Rd · Easton, PA 18045 · Tel.: 1.800.78TULIP