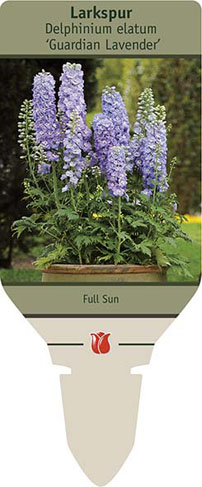 Photo © Netherland Bulb Company, Images may not be copied,
altered or reproduced without express written consent.
Larkspur
Delphinium 'Guardian Lavender'
Long flower spikes adorned with numerous flowers bloom above deeply cut foliage.
Delphiniums are the stars of the early summer border. Plants form a low mound of deeply-cut green leaves, bearing tall spikes of satiny flowers. This mid-sized selection has bright lavender-mauve petals and strong stems that are great for cutting. Remove faded flower spikes to encourage repeat blooming in fall. In hot, humid summer regions, plants do not usually last more than 2 to 3 years. Plants are often attacked by mildew in mid summer; simply cut back hard to encourage fresh foliage. Use a high phosphorous fertilizer each spring. CAUTION: Harmful if eaten.
Characteristics:
Bloom Time:
Blooms early to mid summer
Mature Height:
30-40 Inches
Features and Usage:





Greenhouse Growing Instructions:
Grow on at 65-75° F in photoperiods of 12 hours or longer while keeping evenly moist, never overly wet. Avoid overhead watering and wet foliage. Provide good air circulation to prevent disease. Once actively growing, feed at 75-100 ppm N with each watering. Plants generally finish in 6-8 weeks based on growing conditions.
Plants Per Gallon: 1
Storage Temperature Prior to Planting: 45-60
Cooler Humidity Prior to Planting: High
Transplanting Instructions:
Plant in professional potting soil keeping crown of plant at same level it was in the plug. Once potted, water immediately and apply a broad spectrum fungicide according to directions to avoid crown and root rot.
Homeowner Planting and Maintenance Tips:
Plant in moist, fertile, well-drained soil in full sun. Do not over water once established.

Printed at www.netherlandbulb.com
© Copyright 2020 Netherland Bulb Company. All Rights Reserved.
13 McFadden Rd · Easton, PA 18045 · Tel.: 1.800.78TULIP