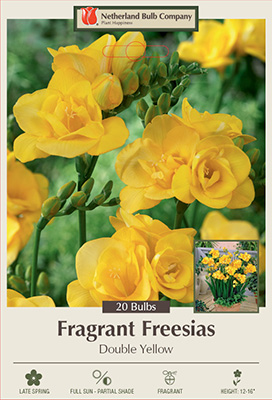 Photo © Netherland Bulb Company, Images may not be copied,
altered or reproduced without express written consent.
Fragrant Freesia
Freesia Double Flowering 'Yellow'
Arching stems of double, sweetly scented flowers that are supported by sword-like foliage.
Characteristics:
Bloom Time:
Blooms late spring
Exposure:
Full Sun,Partial Shade
Features and Usage:



Homeowner Planting and Maintenance Tips:
Easy to grow in well-drained sandy soil in a sunny location.

Printed at www.netherlandbulb.com
© Copyright 2023 Netherland Bulb Company. All Rights Reserved.
13 McFadden Rd · Easton, PA 18045 · Tel.: 1.800.78TULIP