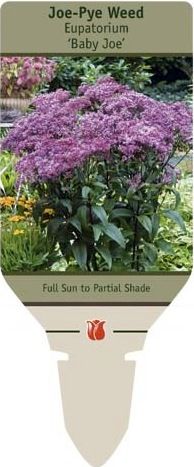 Photo © Netherland Bulb Company, Images may not be copied,
altered or reproduced without express written consent.
Joe-Pye Weed
Eupatorium dubium 'Baby Joe'
PP20,320, CPBR4612
Dwarf, clumping plant with large lavender-rose flowers, a favorite of butterflies.
The perfect size for smaller gardens, this is a lovely midsized selection of Joe-Pye Weed. It forms a bushy upright mound of coarse dark-green leaves, bearing large umbrella-like heads of magenta-pink flowers in late summer. A magnet to butterflies, suitable for planting in moist to wet areas. The stature of this selection is ideal as a focal point in a large container or tub. Dried seedheads offer good winter interest, so consider leaving them until early spring. Flowers are terrific for cutting. Quite possibly hardy in Zone 3 or colder. USPP#20320, CPBR4612: unlicensed propagation prohibited.
Characteristics:
Bloom Time:
Blooms mid summer to fall
Mature Height:
27-29 Inches
Exposure:
Full Sun,Partial Shade
Features and Usage:






Greenhouse Growing Instructions:
Grow on at 55-65° F under long days with high light levels. Keep lightly moist until new growth appears. Once actively growing, keep evenly moist allowing to dry some between watering. Balanced fertilizer can now be applied and plants benefit from one pinch to increase branching. Generally finish in 8-10 weeks based on growing conditions.
Plants Per Gallon: 1
Storage Temperature Prior to Planting: 45-60
Cooler Humidity Prior to Planting: High
Transplanting Instructions:
Plant in well draining professional potting soil keeping crown of plant at same level it was in the plug. Once potted, water immediately and apply a broad spectrum fungicide according to directions to avoid crown and root rot.
Homeowner Planting and Maintenance Tips:
Plant in moist, well-drained soil in full sun to partial shade.

Printed at www.netherlandbulb.com
© Copyright 2019 Netherland Bulb Company. All Rights Reserved.
13 McFadden Rd · Easton, PA 18045 · Tel.: 1.800.78TULIP