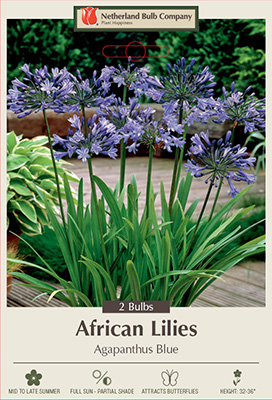 Photo © Netherland Bulb Company, Images may not be copied,
altered or reproduced without express written consent.
African Lily
Agapanthus 'Blue'
Produces large blue flower umbels borne on 3 feet upright stems.
Most often seen as a florists cut flower, Lily-of-the-Nile is not difficult to grow in the garden. In mild winter areas, choose a sunny, well-drained spot and enjoy the large drumstick heads of deep blue flowers from midsummer on. In colder regions, these are best grown in a pot or tub, to be wintered indoors; in late fall, put plants into a cool basement for a couple of months, bring to a sunny window in March and begin to water sparingly until growth resumes. Attractive to butterflies. Easily divided in early spring.
Characteristics:
Bloom Time:
Blooms mid to late summer
Exposure:
Full Sun,Partial Shade
Features and Usage:




Greenhouse Growing Instructions:
Keep evenly moist but not overly wet.
Plants Per Gallon: 1
Storage Temperature Prior to Planting: 38
Cooler Humidity Prior to Planting: Low
Transplanting Instructions:
Plant the crown of the plant at or just below the soil level
Homeowner Planting and Maintenance Tips:
Plant in well-drained soil in full sun to partial shade. Performs well in dry and wet locations.

Printed at www.netherlandbulb.com
© Copyright 2023 Netherland Bulb Company. All Rights Reserved.
13 McFadden Rd · Easton, PA 18045 · Tel.: 1.800.78TULIP