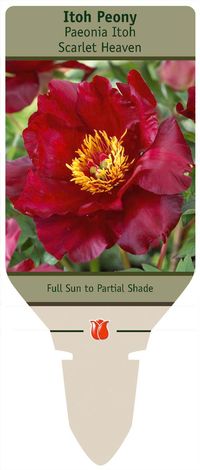 Photo © Netherland Bulb Company, Images may not be copied,
altered or reproduced without express written consent.
Itoh Peony
Paeonia Itoh 'Scarlet Heaven'
Glowing scarlet single blooms with darker edges and a light fragrance on healthy dark green foliage.
Characteristics:
Bloom Time:
Blooms late spring
Mature Height:
28-30 Inches
Exposure:
Full Sun,Partial Shade
Features and Usage:




Greenhouse Growing Instructions:
Peonies prefer to be grown cool (55-60° F). Keep evenly moist, ideally using drip irrigation, never allow to wilt. Space pots to provide good air circulation and keep leaves dry to avoid disease. Generally finish in 9-12 weeks based on growing conditions. Use plant stakes if necessary.
Plants Per Gallon: 1
Storage Temperature Prior to Planting: 28
Cooler Humidity Prior to Planting: Low
Transplanting Instructions:
Plant in well draining soil in 3 gallon or larger container. Keep root 1-2" below soil surface, allowing up to 50% of the eyes to remain above soil. Once planted, water immediately and apply a broad spectrum fungicide to avoid crown and root rot.
Homeowner Planting and Maintenance Tips:
Established roots are easy to grow in moist, well-drained soil in full sun to partial shade. May not bloom if planted as a bare root in the first year.

Printed at www.netherlandbulb.com
© Copyright 2020 Netherland Bulb Company. All Rights Reserved.
13 McFadden Rd · Easton, PA 18045 · Tel.: 1.800.78TULIP