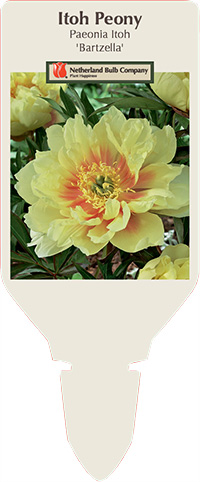 Photo © Netherland Bulb Company, Images may not be copied,
altered or reproduced without express written consent.
Itoh Peony
Paeonia Itoh 'Bartzella'
Up to 50 double yellow blooms on dark green dissected foliage, slight spicy scent.
Characteristics:
Bloom Time:
Blooms late spring
Mature Height:
30-36 Inches
Exposure:
Full Sun,Partial Shade
Features and Usage:




Greenhouse Growing Instructions:
Peonies prefer to be grown cool (55-60° F). Keep evenly moist, ideally using drip irrigation, never allow to wilt. Space pots to provide good air circulation and keep leaves dry to avoid disease. Generally finish in 9-12 weeks based on growing conditions. Use plant stakes if necessary.
Plants Per Gallon: 1
Storage Temperature Prior to Planting: 28
Cooler Humidity Prior to Planting: Low
Transplanting Instructions:
Plant in well draining soil in 3 gallon or larger container. Keep root 1-2" below soil surface, allowing up to 50% of the eyes to remain above soil. Once planted, water immediately and apply a broad spectrum fungicide to avoid crown and root rot.
Homeowner Planting and Maintenance Tips:
Established roots are easy to grow in moist, well-drained soil in full sun to partial shade. May not bloom if planted as a bare root in the first year.

Printed at www.netherlandbulb.com
© Copyright 2020 Netherland Bulb Company. All Rights Reserved.
13 McFadden Rd · Easton, PA 18045 · Tel.: 1.800.78TULIP