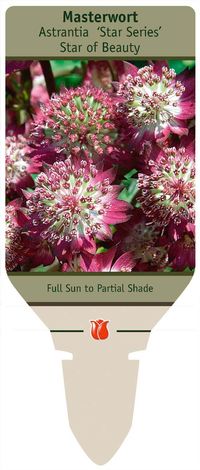 Photo © Netherland Bulb Company, Images may not be copied,
altered or reproduced without express written consent.
Masterwort
Astrantia major 'Star of Beauty'
PPAF
Clumps of attractive foliage support purple and white pincushion flowers.
Masterwort is an exceptionally good cut flower and also attractive in the garden. This selection produces umbels of pincushion-shaped white flowers with magenta-purple tips, arranged like spokes on a wheel. Cut fresh or dry for winter display. Midsized in habit, great for the mid border or in containers. Dead-head regularly to promote more buds and to discourage self seeding all over. Performs best when given a rich, evenly moist soil. USPPP: unlicensed propagation prohibited.
Characteristics:
Bloom Time:
Blooms summer
Mature Height:
20-23 Inches
Exposure:
Partial Sun,Full Shade
Features and Usage:





Greenhouse Growing Instructions:
Grow at 48-55°F to promote root growth. Once actively growing, move up to 60°F and fertilizer can be applied sparingly. Provide 35% shade, keep evenly moist, and never allow to dry out. Plants generally finish in 8-10 weeks based on growing conditions.
Plants Per Gallon: 1
Storage Temperature Prior to Planting: 38
Cooler Humidity Prior to Planting: Low
Transplanting Instructions:
Plant in professional potting soil so crown is at or just above the soil surface. Once potted, water immediately and apply a broad spectrum fungicide according to directions to avoid crown and root rot.
Homeowner Planting and Maintenance Tips:
Plant in moist, well-drained soil in partial sun to full shade.

Printed at www.netherlandbulb.com
© Copyright 2019 Netherland Bulb Company. All Rights Reserved.
13 McFadden Rd · Easton, PA 18045 · Tel.: 1.800.78TULIP