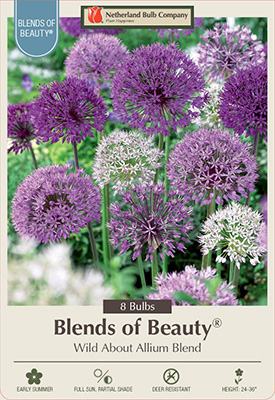 Photo © Netherland Bulb Company, Images may not be copied,
altered or reproduced without express written consent.
Wild About Allium Blend
Allium 'Wild About Allium Mixture'
Striking mixture of allium in varying heights and size flowers. You will go wild at this combination next spring.
Characteristics:
Bloom Time:
Blooms early summer
Exposure:
Full Sun,Partial Shade
Features and Usage:




Homeowner Planting and Maintenance Tips:
Alliums are deer resistant and easy to grow in well-drained soil in full sun to partial shade. Water well after planting. Great ornamental value in the landscape and amazing cut or dried flowers.

Printed at www.netherlandbulb.com
© Copyright 2023 Netherland Bulb Company. All Rights Reserved.
13 McFadden Rd · Easton, PA 18045 · Tel.: 1.800.78TULIP