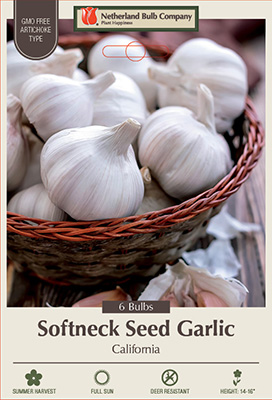 Photo © Netherland Bulb Company, Images may not be copied,
altered or reproduced without express written consent.
Softneck Seed Garlic - Artichoke Type
Allium sativum 'California Seed Garlic'
This classic vegetable can be enjoyed during a summer harvest.
Mild flavored all purpose garlic
Great for braiding
Averages 8-10 cloves per bulb
Most commonly grown variety in the United States
Stores well for 6-9 months
Does well in southern gardens
Characteristics:
Bloom Time:
Harvest summer
Features and Usage:


Homeowner Planting and Maintenance Tips:
Garlic is easy to grow in well-drained soil in full sun. Gardeners have found that planting garlic in their flower beds helps ward off Japanese beetles.

Printed at www.netherlandbulb.com
© Copyright 2023 Netherland Bulb Company. All Rights Reserved.
13 McFadden Rd · Easton, PA 18045 · Tel.: 1.800.78TULIP