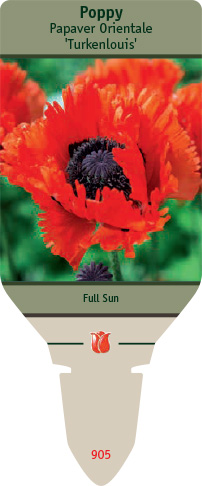 Photo © Netherland Bulb Company, Images may not be copied,
altered or reproduced without express written consent.
Poppy
Papaver orientale 'Türkenlouis'
Loose clumps of fuzzy foliage with numerous stalks of paper-like flowers.
Oriental Poppies provide a cheerful display of huge, satiny flowers in late spring and early summer. Plants form a low clump of coarse, hairy leaves, and usually go dormant, disappearing completely by late summer. This mid-sized selection features fiery scarlet-red flowers with fringed edges. Because they disappear in summer, place something beside Oriental Poppies that will get bushy later in the season, such as Rudbeckia, Russian Sage, or fall-flowering grasses. Divide in August to September. Flowers are good for cutting, picked just as the buds begin to open.
Characteristics:
Bloom Time:
Blooms late spring to mid summer
Mature Height:
24-30 Inches
Features and Usage:





Greenhouse Growing Instructions:
Grow at 50-60°F, water moderately then allow to dry some in between. Keep foliage dry to avoid disease. Once new growth appears, fertilize. Plant height can be controlled by dryer conditions or lack of fertilizer. Generally finish in 8-10 weeks.
Plants Per Gallon: 1
Storage Temperature Prior to Planting: 28
Cooler Humidity Prior to Planting: Low
Transplanting Instructions:
Plant in well draining professional potting soil keeping crown of plant at the soil surface with any sprouts above. Once potted, water lightly and apply a broad spectrum fungicide according to directions to avoid crown and root rot.
Homeowner Planting and Maintenance Tips:
Easy to grow in well-drained soil in full sun.

Printed at www.netherlandbulb.com
© Copyright 2020 Netherland Bulb Company. All Rights Reserved.
13 McFadden Rd · Easton, PA 18045 · Tel.: 1.800.78TULIP